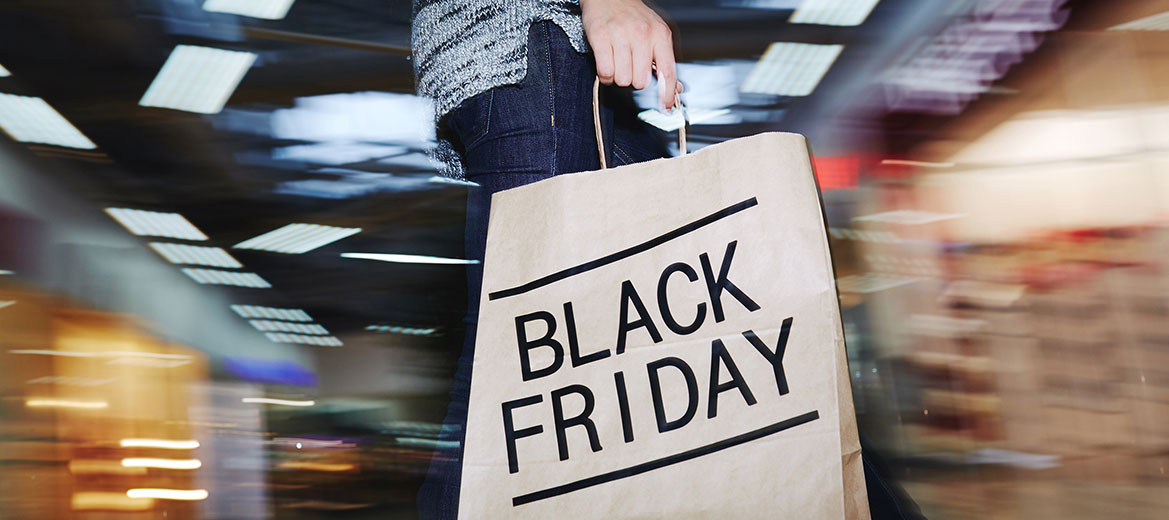 It's hard to believe it's already November. Time for family and friends, pumpkin spice, turkey and holiday shopping. While it's a great day to score some amazing deals and get a jump-start on holiday shopping, it can also be overwhelming and leave you feeling out of control when it comes to spending. That's why we put together these tips on how to make sure you and your wallet are happy this season — plus one easy way to make your community a better place.

1. Make a list, check it twice.
Make a list of everyone you're buying for and exactly what you plan to buy for them. Then stick to your list! Making a list is a great way to narrow your focus to only what you need to buy, but even the best list won't help if you buy impulsively. Remember: a great deal is only a great deal if it's something you need. Do yourself a favor, stick to the list.
 
2. Create a budget.
Creating a budget goes hand-in-hand with making a list. You need to know exactly how much you want to spend for each item you plan to buy. When you create a budget, you end up with a specific amount you are willing to spend. Without that knowledge, it's all too easy to spend more than you can afford.
3. Do your homework before you shop.
Take time well in advance to research the items you're looking for. Read reviews from multiple online sources, and consider those reviews before you commit to a purchase. You may find that sometimes low prices are low for a reason.
4. Know what's actually on sale.
With an overwhelming number of products in stores, finding exactly what you want can be confusing at best. The Internet can be your best friend when it comes to finding what you're looking for. Check to make sure what you're looking at in the store is a reasonably good match with what you want. Two products may look the same but can be vastly different, and the price may reflect that.

5. Make a plan.
Before you start Black Friday shopping, look for stores that have the items you're shopping for on sale, then look to see what time those stores open.  This will help you develop a plan of attack. You'll save time and gas if you plan your stops ahead of time

6. Use the Internet wisely.
Some online retailers are well-known for offering different deals at different times of the day. Look for apps that can help you check for deals. It's also an open secret that some online retailers adjust prices according to how many times you have viewed a specific product. To get the best deal, consider clearing your cookies when shopping online.

7. Look ahead.
Of course, this is the time of year when we focus on holiday gifts, but this is a great time to get a great deal on an item you've had your eye on, like a new computer or TV. You can also take advantage of sales to pick up birthday presents and items you need year-round. But before you buy these extra items, make sure you have budgeted for them.

8. Don't put yourself in a bind.
Finding a great deal always makes you feel good, but if it puts you in debt, or further in debt, then it's definitely not worth it. If you charge something on your credit card but you can't pay it off in full, that great deal will quickly disappear as you start racking up interest charges.

9. Take a deep breath and prepare yourself.
Take a deep breath. Black Friday is the craziest shopping day of the year.  Stores are overcrowded. Tempers are short. Traffic is crazy, and you'd give anything to find a parking spot. Every year we seem to hear about someone getting trampled or fighting over sale items. It doesn't have to be like this. Remember, it's only stuff. If things are too crazy, take a deep breath and relax. Consider shopping on Cyber Monday instead.

10. Remind yourself that you don't have to spend.
The simple fact is you don't have to spend a dime on Black Friday or Cyber Monday. You really don't. Sure, there will be great deals out there, but that doesn't mean you have to take advantage of them. Maybe your budget won't allow it, or maybe the thought of Black Friday shopping ties your stomach in knots. It's ok to pass. There will be other sales, and there's no reason you have put yourself through that. You have to do what's best for you financially, physically and emotionally. Following these guidelines is a great first step.
Bonus Tip:
With the frenetic pace of the holiday season, it can be easy to forget there are others in our community who truly need our help. Consider setting aside some of your budget for those who are less fortunate. You don't have to be rich, and you don't need to make a grand gesture. Simple things often go a long way. Donate money to your local food bank. They can stretch your dollar farther than you can. Donate coats/clothes to a local homeless or women's shelter. Pay for someone's meal or even a cup of coffee. You can make someone's day – and yours – a little brighter.

You may also be interested in:
Credit Card Rewards
Online Safety
Avoid Overdraft Fees
Holiday Travels
Your Budget