Get Immediate Access To Your Funds With An Instant-Issue Debit Card.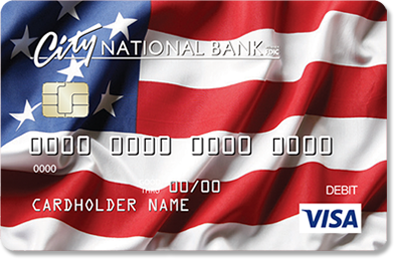 City National Bank & Trust's Visa debit card provides convenient access to your funds at any point-of-sale terminal that displays the VISA symbol and any Cirrus ATM Network.

Pay online the easy way with Visa SRC and a City National Bank Visa debit card.
More on Visa SRC
Report Lost or Stolen Card:
Please contact customer service toll-free at 1-866-385-3444. If it is after regular business hours, please select option "1" from the menu to report your lost or stolen card.
You're Not Ordinary. Why Should Your Debit Card Be?

Nearly everything you own is an expression of who you are… except for your debit card. Well, that doesn't have to be the case anymore.

View Card Gallery

A Safer, More Secure Card Is Here!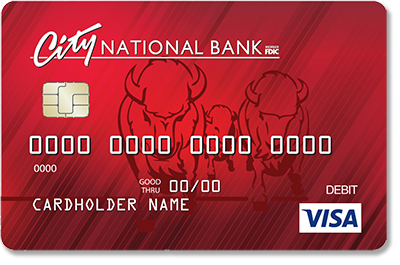 We are pleased to announce the arrival of a new, better Visa debit card. CNB's new Visa EMV debit card is a safer, more secure option for point-of-sale purchases. That's because each card contains a small chip that generates a unique code every time you use it at a chip-enabled terminal. This technology makes it extremely difficult for counterfeiters to steal your account information.

More on Chip Cards

Your CNB chip-enabled card is free when you open a new checking account or replace an expired card. Don't want to wait until your card expires to get a new EMV card? No problem! You can replace your card anytime for a $10 fee!
Shop Securely, Every Time.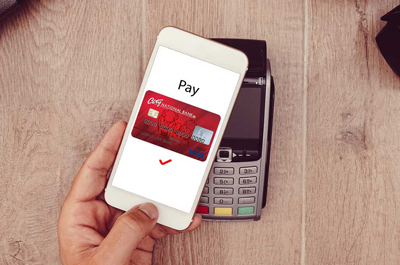 We know that flexibility and convenience in making purchases is important to you. That's why digital wallet is a perfect solution for your busy lifestyle. You can still enjoy your card's rewards, benefits and security, but now, shopping is easier than ever!

After you select which app is right for you, upload your eligible City National Bank debit card, and make fast, secure digital payments right from your phone.
Digital Wallet Options