Take Control Of Your Cards With Card Control
We've all been there: You're about to make a purchase when you realize your debit card isn't there. Then, the panic sets in. What happened to my card? Is it in the car? Did I leave it at home? What if I lost it? What if someone finds it and tries to use it?
Card Control from City National Bank gives you one less thing to worry about. Card Control allows you to activate your new card, freeze your card, unfreeze your card, or disable it permanently right from CityNET or the mobile app. Visit your nearest branch today to see what Card Control can do for you!
1. Main Navigation Menu – Debit Card Services option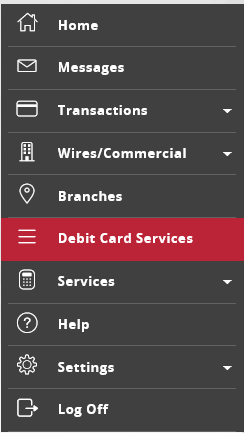 2. Debit Card Services
Active Cards section – freeze or disable cards
New Cards section – activate new cards only
Frozen Cards section – activate a frozen card