Save time, save money with a Business Visa Debit Card.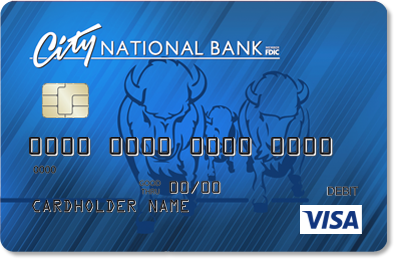 CNB's Business Visa debit card provides convenient access to your funds for quick, no-hassle purchasing at any terminal that displays the VISA symbol.
Important Information:
To obtain a City National Bank Business VISA Debit Card, you must complete our Business Check Card application. Upon approval of your application, the Business VISA Debit Card(s) will be mailed to the mailing address of your business.

Report Lost or Stolen Card
Please contact customer service toll-free at 1-866-385-3444. If it is after regular business hours, please select option "1" from the menu to report your lost or stolen card.

VISA Fuel Dispense Hold Change
VISA will be increasing the dollar hold limit at the gasoline pumps to $50 per transaction. This change was implemented in an effort to reduce the number of self-service fuel pump "shut offs" that directly affect cardholders.

Information about the Business VISA Debit Card:
• Cash withdrawals are limited to $400.00 during any one day.
• Purchases are limited to $1,000.00 during any one day.
• There is no charge for initial Business VISA Debit Card issuance. A $10.00 replacement fee may apply if a re-issue is necessary
• A business VISA Debit Card can only access the checking account on the application. No other business account, savings or checking, can be accessed with the card.
• Transactions processed with your business VISA Debit Card will count as a debit transaction and may add to your account service charges if your checking account plan charges you for debits to your account.
• Using ATMs not owned by CNB or FSNB will result in $1.50 charge for each transaction, balance inquiry, or incomplete transaction.
• If you use an ATM that is not operated by CNB or FSNB, you may be charged a fee by the operator of the machine and/or by an automated transfer network.
• Your ATM PIN is confidential.
• You cannot place a stop payment on any transaction made with your Business VISA Debit Card.
• Notify us immediately if your card is lost or stolen.
• Your current available balance must be sufficient to cover your VISA Debit Card purchase; otherwise, the transaction will be denied.
• Business VISA Debit Card purchases may memo post immediately to your account. They will clear your account on a later date once the merchant has processed them (usually within one to two business days).
• Transactions denied because of insufficient funds will result in a charge of $1.00 per denial.

Card Protection
To protect your account, we monitor your VISA debit card transactions for potentially fraudulent activity which may include a sudden change in locale (such as when a U.S.–issued card is used unexpectedly overseas), a sudden string of costly purchases, or any pattern associated with new fraud trends around the world. We also monitor online transactions, such as with Online Bill Pay, for possible fraudulent activity.

If we suspect fraudulent VISA debit card use, we'll be calling you to validate the legitimacy of your transactions. Your participation in responding to our call is critical to prevent potential risk and avoid restrictions we may place on the use of your card.

• Our automated call will ask you to verify recent transaction activity on your card.
• You'll be able to respond via your touchtone keypad.
• You'll also be provided a toll-free number to call should you have additional questions.

Our goal, quite simply, is to minimize your exposure to risk and the impact of any fraud. To ensure we can continue to reach you whenever potential fraud is detected, please keep us informed of your correct phone number and address at all times. In the meantime, please be diligent in monitoring transaction activity on your account and contact us immediately if you identify any fraudulent transactions. An easy and convenient way to monitor your account is through online banking and the use of eStatements.

Please contact customer service for more information or if you think your account has been compromised in any way toll-free at 1-866-385-3444.