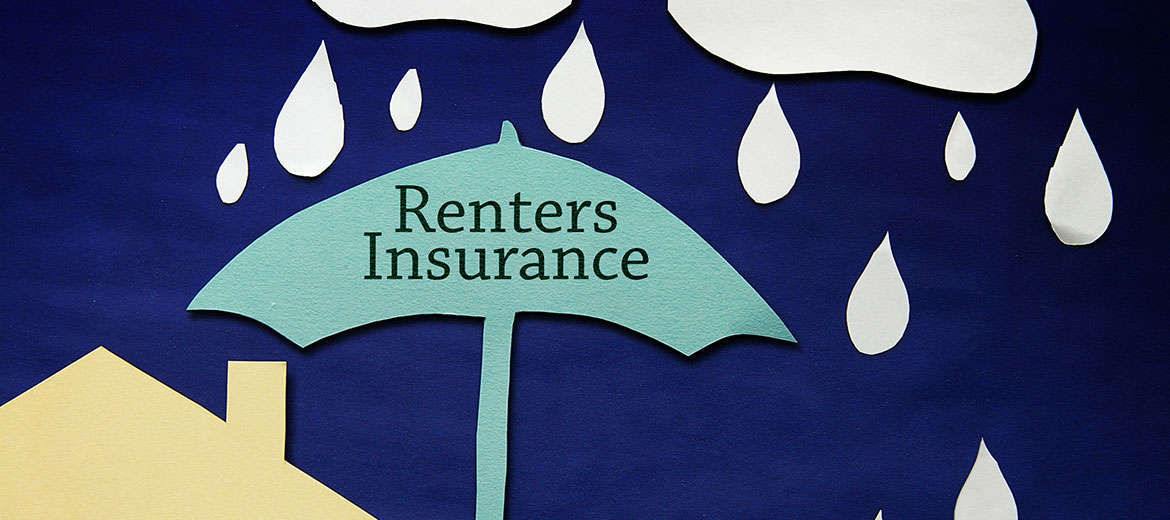 By: Aubrey Love
Do you need renters' insurance? Can you afford renters' insurance? More specifically, can you afford NOT to have renters' insurance?

Young and old alike often find themselves asking these questions. Renters' insurance may be a lot cheaper than you expected. Compare the monthly cost against the cost of not having insurance, and you may be surprised. In this blog post, we will discuss 6 points about renters' insurance that you may not be aware of.

My landlord has homeowners' insurance.
A lot of people think that their landlord's insurance will take care of the renters and renters' property, but this is just a myth. Your landlord's homeowner's insurance covers the structure, but not your personal items. There is some grey area here. If the home that you are renting damages your personal items, such as through faulty wiring, then yes, in most states the homeowner is responsible.

Currently, there are no states that require renters to have insurance, but you may find in your rental agreement that you are required to have renters' insurance prior to moving in or shortly after.

The value of your personal items
If all your worldly possessions consist of a futon couch, bean-bag chair, micro-wave, and a busted T.V., then renters' insurance may not be something you need. As your material possessions grow in number and value, you will definitely want to take inventory and consider renters' insurance.

A good starting point would be to walk through your home with a notepad and pencil. List your items and the approximate replacement value. You may be surprised when you total all that up.

Another good point is to price your items at "replacement" value, not the amount you paid for each item. You can look on places like Amazon, Lowe's, Dillard's, etc. to find out how much you will need to spend to replace your items. If an item is no longer made, try looking on eBay or Facebook Marketplace for a replacement value.

Housing financial assistance.
When shopping for renters' insurance, make sure to verify they have a "loss of use" clause, sometimes referred to as "additional living expenses or benefit" clause. This will provide an additional payout if you need to seek temporary shelter somewhere else. This option can be an additional payment that is separate from the payout for your personal items.

The "loss of use" clause can also pay for additional living expenses such as eating out while your home is being repaired. Be sure to keep your receipts, you will need to turn them in to file that claim.

Protecting your savings.
You've been saving money for a down payment on a new car or maybe even a home of your own. Your renters' insurance can protect that savings by reimbursing you for your lost items, so you don't have to pay out of your savings to replace them.

As mentioned in the previous two sections, you need to insure your items at their "replacement" value. What would it cost you to buy all of these things again? Another good point is to keep up with this on a yearly basis. Most often, things go up in value, not down. That old T.V. you bought five years ago may not be worth a lot of money, until you try to replace it.

While you are away.
Did you know that most renters' insurance policies come with "renters liability insurance?" Renters' liability insurance can protect you from lawsuits if your dog bites someone while you're out for a walk with your fury pet. Maybe your child broke a valuable vase at a neighbor's house, that could also be covered.

Granted, not all insurance policies and insurance providers will offer renters liability insurance, so shop around and don't be afraid to ask questions and to get quotes in writing. If they shy away from you when you ask about these, then follow suite and shy away from them, quickly.

The cost of renters' insurance
So, how much does renters' insurance cost? You may be surprised to find out that it's a lot cheaper than you may have thought. As a national average, a standard agreement would run about $180 per year according to NerdWallet. That's only $15 a month. About the cost of one meal for a single person per month.

You may be able to reduce that even more if you bundle your renters' insurance with your car and life insurance.

Final Thought
Now that you're a little wiser about renters' insurance, here is a short list of some of the reputable companies to consider when shopping for renters' insurance.
Insurance doesn't protect you from disasters, burglaries, etc. it just makes it a little easier to bounce back afterwards.


---
Disclaimer: The information posted on blogs and vlogs by City National Bank is for educational and entertainment purposes only and is not intended as a substitute for professional or legal advice. City National Bank will not be held liable for any loss or damage of any kind in connection with this blog.