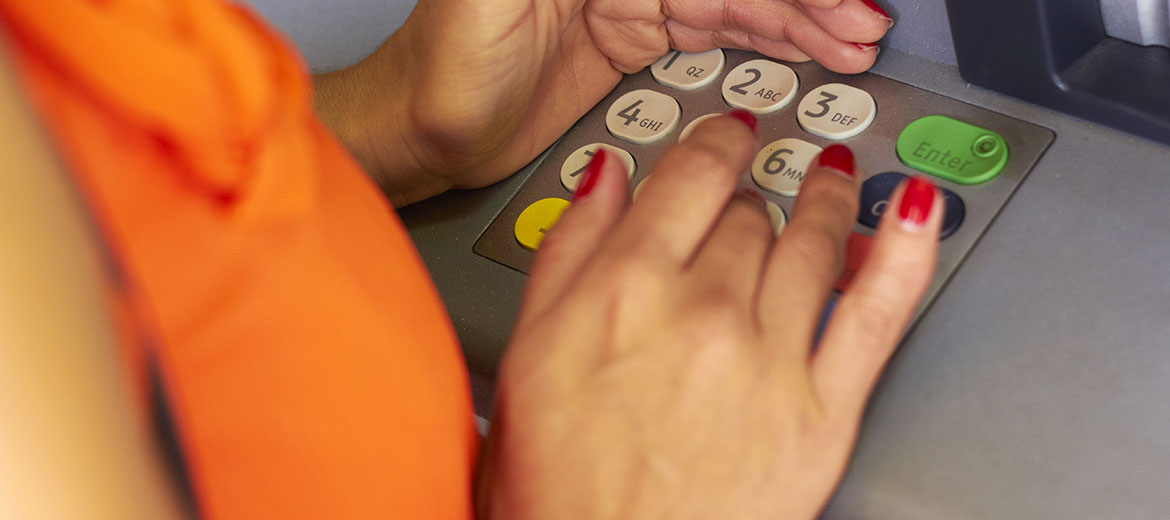 ATMs are a great convenience, but they are also places where you need to watch out for your safety. ATM theft is a problem that can devastate your finances. These simple safety precautions will reduce your chances of being a victim.
Tip #1: Be Aware of Your Surroundings. If you feel uncomfortable in any way at an ATM, alert someone to the situation. You may have to make your transaction at a later time, but your safety is more important. If the ATM has poor lighting or is hard to see, visit another machine if possible. ATMs on the corners of buildings can be particularly dangerous. The corner creates a blind spot, making you more vulnerable to theft. Select machines in a busy area that is free of obstructions. Also, be aware of anyone trying to "help" you with your transaction. If you need help, visit a branch location rather than an ATM.
Tip #2: Keep Your PIN Protected. When you're at an ATM, don't allow anyone to look over your shoulder at your PIN. Cover the keypad to block prying eyes or PIN-capturing devices. And never write your PIN on the back of your card or on a separate piece of paper – memorize it!
Tip #3: Notify City National Bank of Card Problems Immediately. If there is a problem with the ATM (i.e., the ATM can't read your card), please wait at that ATM location and contact CNB immediately. You may not be able to resolve the situation immediately. However, we can assist you with a new card or call the ATM's owner (if it is not CNB's ATM). If anything goes wrong with a transaction, cancel it immediately. If you feel you may be in danger, cancel your transaction and find another ATM.
Tip #4: Count Your Money in Your Car. Never count cash at the ATM or in public. Wait until you are in your car or another secure place to do so. If a thief confronts you and demands your money, you should always comply. You have no way of knowing how dangerous this person can be. Your money and other valuables are not worth risking injury or death.
Tip #5: Be Quick. To prevent any problems, you should spend as little time as possible at an ATM. Maintain a supply of deposit envelopes at home or in your car. Prepare all transaction paperwork before your arrival at the ATM. When using a drive-up ATM, keep your engine running and your doors locked. Leave enough room to maneuver between your car and the one ahead of you if you need to leave in a hurry.
The real key to ATM safety is to keep your surroundings in mind. Do not put yourself in unnecessary danger. You should also check your bank statements, as well as your balances. If you believe your information has been compromised, immediately report the issue to City National Bank.
We strive to keep our customers safe when they use our ATMs. To find the City National Bank ATM nearest to you, click here. If you have experienced any issues, call us at (866) 385-3444.

You may also be interested in:
Mobile Security
Online Safety
Black Friday