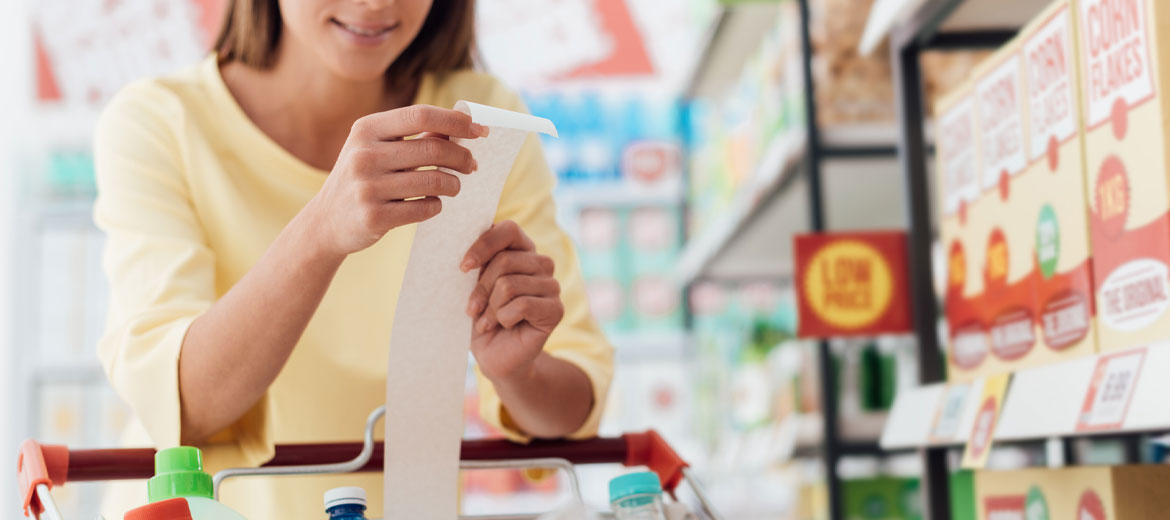 By: Aubrey Love
Are you feeling the crunch at the supermarket yet? Food prices have been quickly rising since 2019, but the rate of increase has slowed in the past year. The most recent data shows that food prices rose by 21.98% between April 2019 and April 2023, according to the CPI (Consumer Price Index). In this blog we will discuss 12 ways that you can save money at the checkout.
Grocery Rewards Cards
Some retail grocery stores offer coupons and rewards cards to help you save at the register. For example, Homeland offers a rewards card that allows you to apply your rewards at checkout. Combined with their digital coupons, you could save a small bundle.

If you don't have a Homeland near you, ask your local grocery store if they offer reward cards. You may have to shop around at different stores to find one that suits your needs.


Loyalty Programs
Much like the rewards cards mentioned earlier, some stores offer loyalty programs for their frequent shoppers. Some of the most common loyalty programs offered by big box retailers include Walmart, Albertsons, Kroger, and Winn-Dixie.

Don't be afraid to ask about these options at the service desk. In these times, you have to save everywhere you can. Especially on groceries.
Clip Coupons
I suppose at some point in time, most of us have clipped a coupon or two. I know that I have done my fair share of coupon clipping. You can find these little money savers in your local paper, online, and in the store aisles where you shop.

In the past, I purchased a small file box with dividers from Office Depot and organized my coupons by department. I took this organizer with me when I went shopping and pulled out the coupons that I needed for the items in my shopping cart. This system works great.

Don't go coupon crazy though. Only clip and use coupons for products that you would normally buy. Purchasing an item just because you have a coupon is a waste of money.
Wholesale Clubs
When you think of wholesale clubs, the first options that pop into your head are probably Sam's and Costco. However, with a quick Google search, you can find many more options.

Wholesale outlets offer a wide variety of products in bulk. If you have a large family, this is often a great deal. Even a small or medium size family can benefit from these bulk purchases if your products have a long enough shelf-life.

Another option to making full use of wholesale stores is to partner with a relative, friend, or neighbor and split the cost and products of some bulk items. You can purchase a case of peanut butter, for example, and split the case and the cost between the two families.
Make a List and Stick With It
One of the biggest downfalls of shopping is impulse purchases. That's the whole reason there are products on the end caps and at the register. The store is hoping that while you wait in line, you will pickup something and add it to your cart before you checkout. Try to avoid these impulse purchases by making a list of items you need and purchase only those items, nothing else.
Buy Sale Items
This one can be a double-edged sword if you're not careful. Sale items are usually at or near their expiration dates, so you will need to consume these items first. In other words, rotate the stock in your freezer and refrigerator. Although you should do this anyway, but with sale items, it's especially true.

Hint: don't buy sale items just because they are on sale. If you don't normally purchase the item that's on sale, you are less likely to eat or use that product before it expires.
Avoid Pre-Packaged Foods
If you do a little comparison shopping, you may find that the pre-packaged foods are slightly more expensive than whole items. Sometimes you can find block cheese cheaper than shredded cheese. They generally charge a little more if they have to shred it. You can save yourself a little cash by purchasing the block and shredding it yourself.

Another gotcha is vegetables. The pre-packaged option often has more than you can consume before it expires. Try looking for an individual carrot, for example, instead of a package with 10 carrots. Optionally, you may find frozen vegetables that you can separate into smaller portions and only thaw what you need per serving.
Compare Prices on Different Shelfs or at Different Stores
Buying in bulk does not always mean your getting a discount. For example, at one store that I shop at, I noticed that two 4oz cans of ground black pepper are cheaper than a single 8oz can of the same product on a different shelf. When you put a product in your cart, keep a mental note on the cost, you may find it on a different shelf or aisle at a cheaper price or on sale.

If you are looking for something that falls into a seasonal category, try comparing the price in the seasonal aisle and in another aisle where that item is normally stocked. I see this frequently. That same item is cheaper in one department than it is in another department.

Shop around at different stores. You may find that one store offers lower prices on dairy products, while another store may have cheaper prices on meats. Another store altogether may offer a better selection and lower prices on produce. Careful not to get carried away with this process, you may end up spending more on gas than what you save in groceries.
Buy Generic Brands
Buying generic brands over name brands sounds like a reasonable idea, but don't sacrifice quality over savings. With some products, the generic brand may not taste as well as a name brand. If you are not pleased with the taste, then you may end up wasting food, and that can cost you more in the long run. However, in some instances, I have found that the generic brand tastes equally good or even better than the name brand.
Bring Your Own Bags
Bringing your own bags to bag up your groceries is a growing trend for a multitude of reasons. Going Green seems to be at the top of the list. But did you know some chain stores like Target and Whole Foods may give you up to a 10% discount per bag you bring in? This benefit varies by city and state, so you may want to inquire about this discount at your local store.
Use a Rebate App
There are millions of apps available for just about anything you could think of, even for groceries. A couple of common apps are Ibotta and Rakuten, but a quick Google search will return a plethora of other options. Usually, registration is free, but you may need to link a loyalty card or submit receipts to receive a rebate. Just be aware of scam apps.
Cash Back Card
Have you thought about those credit cards in your wallet? Most of us pay for almost everything with a credit or debit card these days. Cash is king, but cards are convenient, and they could offer you some cash back on your groceries. Most credit cards offer some level of cash back on all your purchases. The CNB Max Cash Preferred Card offers 5% cash back in two categories of your choice. You can set one of those categories as groceries and get cash back just for buying something you needed to purchase anyway.
Final Thoughts:
Groceries are a large part of our daily living costs, especially in a time of high inflation. By maximizing the tips in this blog and using a credit card that earns high rewards, you can offset that cost. It may not seem like much with each item listed above, but combined, those efforts can make a substantial impact on your bottom line.
---
Disclaimer: The information posted on blogs and vlogs by City National Bank is for educational and entertainment purposes only and is not intended as a substitute for professional or legal advice. City National Bank will not be held liable for any loss or damage of any kind in connection with this blog.